Facebook requires that users provide their "real" first and last name. While the definition of "real" as it relates to a name is up for interpretation, what Facebook really means is your legal name that appears on things like your library card, driver's license, or credit card. In fact, when you click "sign up" and agree to Facebook's
Terms
, you agree to always provide accurate and updated information.
If for some reason Facebook doubts that you are who you say you are, or, in other words, that the display name that you are using on Facebook is not your real name, they can suspend your account and only release the hold once you have sent them proper ID. Read about it
here
.
Facebook claims that they need this information because "Facebook is a community where people use their real identities." The site notes that using a real name helps other users to know who they are connecting with which keeps the community safe. However, lack of freedom of speech, exposing victims of harassment to their harassers, and constraining user ability to explore different selves are all possible outcomes of having a real name policy. Real name policies are just one hurdle that constricts users to certain work, personal, or sexual lives.
If you want to enact some agency, there are some ways. Although it's against the Terms of Service that you must agree to in order to access the site, you can decide to use a display name that is not your complete legal name. Also against the Terms, you can create more than one profile, which allows you to represent your different social contexts.
<
>
Close X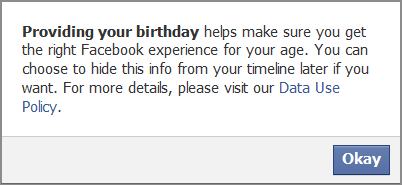 Facebook claims that asking users for their real birthdays is in an effort to provide the "right" experience for their ages. Yet, this is also valuable information for the site because age group is an important variable for advertisers when they are deciding who to advertise certain products to.
On the other hand, Facebook is also trying to cover themselves. The Children's Online Privacy Protection Act or
COPPA
outlines specific rules for sites when dealing with children under the age of 13. Thus, Facebook has made the decision to completely block those under 13 from using the site.
The largest impact from inputting your real birthday will most likely be that you will only receive ad content, and perhaps news and other content, that are seen as stereotypically "right" for your age. You can play with your age in your profile once you become a member if you wish, seeing if you notice any difference in the content you are shown.
<
>
Close X

Facebook requires that, at sign up, all users choose if they are female or male. This presents issues for many potential users who identify as something other than female or male or who simply feel that having to pick any gender category is not necessary.
In June of 2008 Facebook made all users choose male or female and added the mandatory field to the signup page. Naomi Gleit, Senior Product Director at Facebook, blogged to explain why the change was made, claiming that translators were getting confused. Read her post
here
.
Recently, although Facebook changed the gender options in the About section of the profile, the signup page still asks that new users select female or male. As also discussed in the gender section on the about page of this website, users can completely subvert the gender categories of Facebook once they sign up by altering Facebook's code. See an example of how to do that
here
. Unfortunately, there is currently no way to get around selecting female or male in the initial setup.
<
>
Close X
Before becoming an official member of Facebook, potential users must fill out the Sign Up page. Along with entering a working email address and choosing a password, new users must input their real first and last name, select their birthday, and choose their gender from the choices of male or female. All fields must be completed before users move on to customizing their profiles.
Click the images below for more information: